How earnings for unionized public employees compare with private sector
In the fight for balanced budgets vs. benefits for public employees, what's fair and what's politics?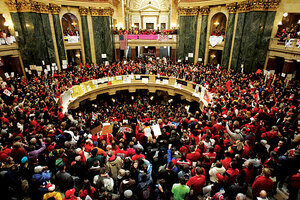 Max Gersh/The Rockford Register-Star/AP
How much is a civil servant worth?
With state and local budgets now stretched like bubble gum, governors and legislators are asking how much they can spend on their workers. Many lawmakers are reassessing benefits such as pensions and free health care. Such issues especially took off in Wisconsin, where the governor has challenged the power of the unions to engage in collective bargaining over benefits.
Some surveys indicate the time could be ripe for change. Sixty-four percent of voters oppose public employee unions, according to a poll by Clarus Research Group, which is based in Washington. For many people taking that stand, it goes hand in hand with aims of reducing government budget deficits and instituting more fiscal responsibility.
IN PICTURES: Wisconsin protest signs
"It's becoming increasingly clear public workers' benefits are out of touch with the private sector and need to be modernized and right-sized," says Mark Zandi, chief economist at Moody's Analytics in West Chester, Pa.
The unions and their supporters push back by saying they are not overcompensated and are mainly just middle-class people trying to make a living.
---