Slightest signs of compromise emerge in Wisconsin labor fight
The warring factions could be taking note of voter restlessness over the long standoff between the governor and Wisconsin's state workers – or they could simply be wearing down. Either way, hint of compromise is in the air.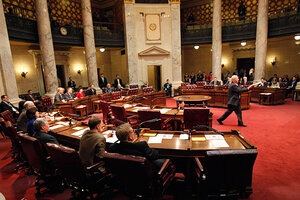 Andy Manis/AP
The standoff in Wisconsin over the power of public employee unions is showing signs of budging as feuding state lawmakers, including Gov. Scott Walker (R), hint that some element of compromise is the only thing that will prevent the stalemate from entering its fourth week. Opinion polls released this week suggest that Wisconsin voters are becoming restless as the protracted battle drags on.
Wisconsin's 14 Senate Democrats fled to Illinois three weeks ago to prevent the Republican majority from voting on a bill that would limit collective bargaining for many public employees and would increase workers' pension and health benefit obligations. While union supporters say the bill is a political play to erode union membership, Governor Walker says such moves are needed to close the state's estimated $3.6 billion budget gap over the next two years.
From the start, Walker made it clear he would not waver. After some failed attempts to lure at least a few Senate Democrats back to Madison, the state capital, Walker issued a final ultimatum Thursday, saying he will lay off 1,500 state workers by the end of Friday unless the Democrats return. On Friday, Senate Republicans voted 19-0 for a resolution that finds Democrats in contempt of the Senate and authorizes state troopers to arrests any senators discovered in Wisconsin borders.
At press time, Walker had not announced the layoffs and no Senate Democrats have been arrested.
Speaking to the Milwaukee Journal-Sentinel Friday, Senate majority leader Scott Fitzgerald described his Democratic colleagues as creating a "constitutional crisis." "They're insulting the very fabric of our representative democracy," he added.
---