Did Wisconsin Republicans need to attack collective bargaining?
Wisconsin Gov. Scott Walker said he needed to rein in collective bargaining in order to secure key long-term budget savings. Is he right? Here are the arguments pro and con.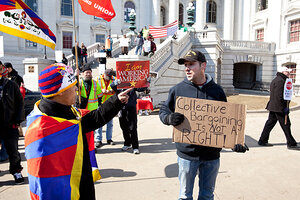 Steve Apps/Wisconsin State Journal/AP
Gov. Scott Walker and his Republican allies in Wisconsin have made it clear this week: They insist on a major rollback of union collective bargaining power, not just on some budget concessions from public employee unions.
Partisan conflict on the issue has only escalated this week. Republicans in the state Senate on Wednesday used a procedural gambit to pass a measure to strip key bargaining powers from state workers, without a quorum. The state's House approved the measure Thursday afternoon, as protesters thronged the Capitol and union members weighed the option of a general strike.
So, what is this debate over collective bargaining all about?
Beneath the ruckus is an issue that goes to the core of labor union power in today's America. To backers of organized labor, it's about defending cherished means of advocating on behalf of workers, at a time when a majority of unionized workers are in the public sector. To union critics, it's about rolling back powers they say are inappropriate in the government sector and harm state economies.
Governor Walker framed it this way in a statement after the Senate vote: "I applaud the Legislature's action today to stand up to the status quo and take a step in the right direction to balance the budget and reform government. The action today will help ensure Wisconsin has a business climate that allows the private sector to create 250,000 new jobs."
---
Follow Stories Like This
Get the Monitor stories you care about delivered to your inbox.