Republicans block Jerry Brown's budget move. What are his options now?
California's governor is unable to persuade GOP lawmakers to OK his plan to solve a looming budget shortfall. Jerry Brown might try an end run, if it's legal, or present an all-cuts budget.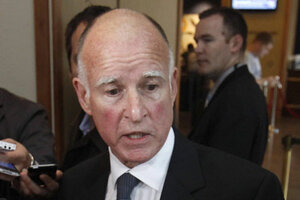 AP
It's the closest thing the modern West has to a saloon brawl, say California political analysts.
California needs to close a $26.4 billion budget gap for the coming fiscal year, and new Gov. Jerry Brown (D), King Solomon-like, has proposed cutting the baby in two – making up half that figure in budget cuts and half in tax increases (or extensions). By law, he must get voter approval for the latter, and for that he needs Republican lawmakers' OK to hold a special election.
Republicans have dug in their heels, saying voters are in no mood for taxes.
With the clock still ticking but his self-imposed deadline passed, Governor Brown is trying to win enough Republican votes (four are needed – two in the Assembly and two in the Senate) to call a special election on extending certain tax rates.
Negotiations on Monday, however, ended with Brown and five Republican lawmakers engaging in name-calling and finger-pointing. Assembly GOP leader Connie Conway declared negotiations "done and over." With the California Republican annual convention coming this weekend, one hard-line conservative faction is introducing a resolution to censure any colleagues who vote to put additional taxes on a special election ballot. The resolution would label such colleagues "traitorous Republicans-in-name-only" and call for their resignations.
Just before Monday's meeting with GOP lawmakers, Brown had talked with a political columnist who asked what happens if Republicans don't go along with his special election. "Everyone will come out fighting. California will become a battleground…. It'll be a war of all against all. The loser will be the people of California," Brown told columnist George Skelton of the Los Angeles TImes.
---