Obama maintains trademark calm amid rising shutdown storm
As the government shutdown deadline approaches, President Obama has remained calm and on-message.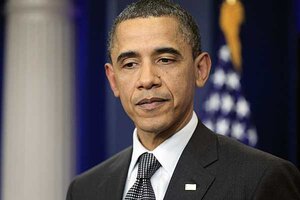 Charles Dharapak / AP
When President Obama walked into the White House briefing room a little before 11 p.m. Wednesday, he had the air of a disappointed father who couldn't get his kids to stop fighting.
House Speaker John Boehner (R) of Ohio, Senate majority leader Harry Reid (D) of Nevada, Mr. Obama, and Vice President Biden – and members of their respective staffs – had failed to break the budget impasse. The clock was ticking toward a government shutdown, which will begin at 12:01 Saturday morning if no deal is reached.
But even as Obama warned that a shutdown would have "real consequences for real people" – citing an example from the evening news of a man from Kentucky desperate for his tax refund – the president maintained his trademark measured tone. No chest-beating, no dire rhetoric. Classic Obama, yes. But also a recognition that this showdown over funding the federal government for the rest of the 2011 fiscal year is merely spring training for the big show ahead: the looming vote in Congress to raise the federal debt limit.
"Obama's a guy who takes [presidential scholar] Richard Neustadt's advice seriously: 'Consider tomorrow,' " says Bruce Buchanan, a political scientist at the University of Texas at Austin.
---