US credit rating: Congress has many debt plans, but will it heed warning?
US credit rating is still AAA, but Standard & Poor's added a cautionary note because of the nation's 'rising government indebtedness.' Here's a look at some of the budget plans in Congress.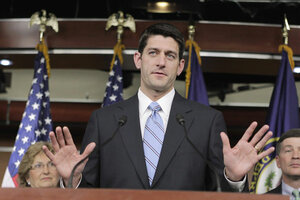 J. Scott Applewhite/AP
A report that Standard and Poor's has lowered its US credit outlook from "stable" to "negative" jolted the New York Stock Exchange and fueled calls for Congress and the White House to come to terms on a solution to America's soaring debt.
While maintaining its AAA rating on US debt, the rating agency added a cautionary note due to the nation's "rising government indebtedness" – and the prospect that Congress and the White House will not deal with it. It's a signal that if a political deal is not reached by 2013, the US credit rating could be downgraded, triggering higher interest rates and deepening the debt crisis.
"There is a material risk that US policymakers might not reach an agreement in how to address medium- and long-term budgetary challenges by 2013," Standard and Poor's concluded.
In response, the White House insisted that progress is being made toward a bipartisan agreement. "We think the political process will outperform S&P expectations," said White House press secretary Jay Carney at a briefing Monday. "The fact is when the issues are important, history shows that both sides can come together and get things done," he added.
---