Will Wisconsin recount affect collective bargaining bill?
The Democrat-backed challenger in the race for the Wisconsin Supreme Court is granted a recount as the collective bargaining bill moves through the state court system.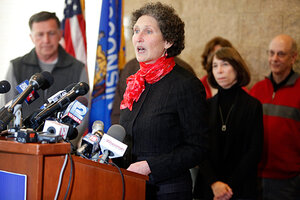 Michael P. King/Wisconsin State Journal/AP
The challenger in the race for a seat on the Wisconsin Supreme Court has been granted a statewide recount, a decision that is creating renewed uncertainty about the outcome of a controversial collective bargaining bill that is winding its way through the state court system.
The April 5 election between incumbent Justice David Prosser and Assistant Attorney General JoAnne Kloppenburg attracted national attention when it became known that the court battle between Dane County officials and the administration of Gov. Scott Walker (R) over the collective-bargaining bill is likely to end up in the state's highest court.
The bill is criticized by Democrats for eroding union power among public-sector employees by forcing higher pension and health costs and limiting collective bargaining on everything but wages.
Last month, a circuit court judge issued a temporary restraining order at the request of the county's district attorney against publishing the bill, saying Republican lawmakers rushed to make it law and, in the process, potentially violated the state's open meetings law. Governor Walker's administration disagreed. The next step in the case takes place May 23 when both sides are required to have their legal briefs filed in court.
---