It's Election Day in Wisconsin, and collective bargaining is the issue
Millions of dollars have poured into Wisconsin for Election Day. At stake: a desire to swing the state Supreme Court majority on the issue of collective-bargaining power for unions.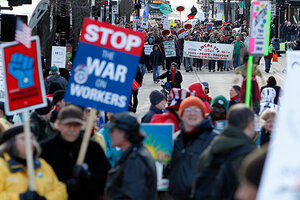 Andy Manis/AP
Election Day in Wisconsin, Tuesday, is becoming yet another chapter in the ongoing debate over the collective-bargaining power for unions in that state. Both political parties are targeting an open state Supreme Court seat with the hope that it will swing the majority vote on the issue in their favor – a prospect that has elevated the race to the national stage and is generating millions of dollars from national interest groups.
The stakes are high because both sides agree that whoever wins will probably end up ruling on the controversial union bill, which strips collective-bargaining rights from public-employee unions. That legislation is expected to wind its way through the state court system in the coming weeks. On Friday, a circuit court judge ruled that the temporary restraining order designed to block the legislation will stand for at least two months in order to determine whether Republican legislators violated the state's open meeting policy in making it law. The administration of Gov. Scott Walker (R) insists the law's passage was sound and is already adopting it as official policy.
Tuesday's election is being seen as giving voters their first opportunity to weigh in on the matter. Republicans favor Justice David Prosser, the incumbent since 1998, while Democrats and union organizations are backing Wisconsin Assistant Attorney General JoAnne Kloppenburg.
---