GOP hopefuls angle for advantage, Obama goes for secret donations
As Republican presidential hopefuls position themselves, party leaders look for more "responsible adults" to run. Meanwhile, Obama's campaign will solicit secret donations, which he once criticized.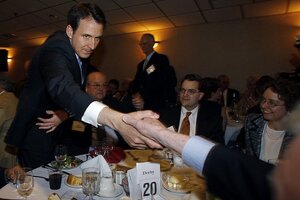 Brian Snyder/Reuters
The candidates for president in next year's election are maneuvering for position as the inevitable winnowing and bankroll-building accelerates.
Since only a few have taken the formal steps necessary to run, by "candidates" we mean the prominent names cited by that oracle coined years ago by columnist Russell Baker: "The Great Mentioner."
In that category is Indiana Gov. Mitch Daniels, whose protestations of disinterest have been issued regularly for months.
But Daniels made news this week when he signed legislation that ends government funding for Planned Parenthood in his state and bans abortions after 20 weeks of pregnancy. He also signed a bill that ties public school teachers' pay and promotion to effectiveness in the classroom, not just seniority – which, of course, is opposed by teachers' unions, a strong part of the Democratic base.
Sounds like Daniels is moving in the direction of embracing social issues – something he earlier declared there should be a "truce" on while the federal government sorts out its budget and deficit woes.
Another factor is that his buddy Mississippi Governor Haley Barbour has just pulled out of the race, and in the eyes of many observers this has freed up Daniels to run – not to mention the Barbour connections and fund-raising abilities the former chairman of the Republican National Committee could bring to a Daniels campaign.
---