What the world learned about Obama from bin Laden raid
Obama took office amid questions about whether he could be a credible commander in chief – and showed personal fortitude and command capability in the bin Laden raid. How long will glow last?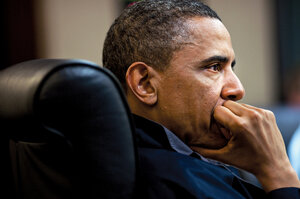 Pete Souza/The White House/AP
Americans – and the world – will never see President Obama in quite the same way.
Mr. Obama, a freshman senator from Illinois when he was elected, took office in January 2009 surrounded by questions.
Could the young president, with little executive or foreign-policy experience, be a credible commander in chief? Could he build a team and make decisions? Could he handle the proverbial 3 a.m. phone call?
IN PICTURES: Obama at ground zero
The successful operation against Osama bin Laden, eight months in the making, has laid some of those doubts to rest. Even former Vice President Dick Cheney, who once accused Obama of "dithering" over Afghanistan policy, congratulated the president and his national security team on a job well done.
Suddenly, Obama's deliberate style and trademark calm are being hailed as assets. His relaxed, joke-filled performance at the White House Correspondents' Dinner the night before the highly risky commando raid on Mr. bin Laden's compound is now part of the legend. Ditto the nine holes of golf Obama shot the morning of the assault.
---