How Rahm Emanuel might reinvent Chicago politics
He takes over a city that will test his legendary toughness and may become a laboratory for addressing the problems that plague urban areas in hard times.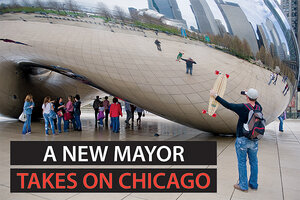 Ann Hermes staff photo/John Kehe staff illustration
It is hard to follow a Daley into the mayor's office here. There is no instruction book. Richard M. has been sitting there for 22 years, a little longer than his father, Richard J., sat in the mayor's office when he was creating "the city that works."
Rahm Emanuel, scheduled to take office May 16, knows that well, and with the blush fading from a first-round victory in the mayor's race on Feb. 22, he is moving with characteristic aggressiveness to put his stamp on the office.
That is prudent, because the nation will be watching. With its pension deficits, its billion-dollar budget shortfall, its troubled public schools, and its bubbling array of social challenges, Chicago may well become the laboratory for addressing the problems that plague big cities in hard times.
But if anyplace in America has a good track record for attacking problems, it sits here in its sparkling architectural glory, flat in the center of the nation's heartland. Chicago may be the most American place in America, forged by an array of brutally efficient moguls and an army of immigrants who built the railroads, chopped up and shipped pigs and beef to feed the nation, tapped mayors who built enduring political traditions that ran from vile to visionary and left a legacy of prosperity across generations.
RELATED OPINION: Chicago Mayor Daley's greatest legacy – and gift to Rahm Emanuel
Now comes Mr. Emanuel and his "moving forward" mantra – "Together, as one city with one future" – which he first tossed out on election night. It echoes on all the news shows, the theme he probably hits most often when he is asked about his plans.
---