Planned Parenthood battle signals fresh twist in abortion wars
An unprecedented number of states are targeting funding for abortion providers, including Planned Parenthood. The farthest-reaching effort, in Indiana, is facing a legal challenge.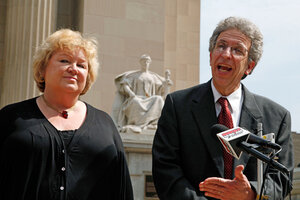 Michael Conroy/AP
The campaign against Planned Parenthood from Congress to Kansas is part of the broadest legislative attack against funding for abortion services since abortion became legal in 1973, say activists.
Antiabortion legislation in Congress and the states is nothing new. But 11 states this year have targeted the funding of organizations that perform abortions, most notably Planned Parenthood, the nation's largest abortion provider.
While some suggest that providers should consider radical measures to ease the political pressure – such as separating abortion services from their other health-care programs – Planned Parenthood is taking the matter to court. What happens in an Indiana courtroom, where Planned Parenthood is challenging the strictest funding ban, could determine whether the trend gains momentum or comes to a halt.
"We've never seen this number of attacks [on abortion providers' funding] in one year," says Elizabeth Nash, a public policy associate with the Guttmacher Institute in Washington, which advocates affordable reproductive health care. "Usually, it's a couple of states. This is very different."
The effort to attack Planned Parenthood's financing received a major boost earlier this year, with the launching of Expose Planned Parenthood – a coalition of antiabortion groups that alleged Planned Parenthood colluded in the sexual exploitation of minors. One of the groups in the campaign released "sting" videos that it said provided evidence of this collusion.
---