Why did the Obama-Boehner grand debt reduction deal fail?
Congressional leaders meet with President Obama at the White House Sunday evening. The $4 trillion deficit-reduction package is off the table, so how much will they be able to accomplish?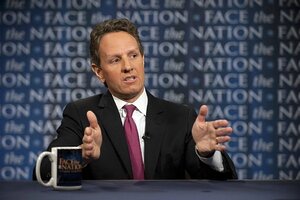 Chris Usher/CBS News/AP
UPDATE: President Obama, Vice President Joe Biden, and eight senior congressional leaders of both parties met for about 75 minutes Sunday evening at the White House. Nothing was settled regarding the federal deficit or debt reduction, but both sides agreed to meet again Monday afternoon. Sunday's meeting was described by Politico.com as "testy" with "several sharp and frustrated exchanges." Obama has scheduled a press conference for 11 am ET Monday.
The President of the United States and the Speaker of the United States House of Representatives. Two of the most powerful political leaders in the world. And yet as President Obama and Speaker John Boehner are finding out, there are clear and sometimes sharp limits to what they can accomplish.
As they prepare for their Sunday evening meeting at the White House, the grand plan for tackling the nation's deficit and debt – a $4 trillion package over 10 years – has gone poof, reduced to perhaps half that amount.
Both leaders are under pressure from their own parties: Boehner from those on the right who refuse to accept any new revenues carrying the whiff of taxes, and Obama from those on the left who refuse to consider any cuts to such cherished entitlements as Social Security and Medicare.
An exchange of short statements Saturday evening tells the story.
---