Why GOP vows to block Obama nominee for consumer-watchdog agency
The sweeping financial reform legislation passed by Congress a year ago created the Consumer Financial Protection Bureau. President Obama nominated its first director Sunday, but Republicans are against the structure of the entire agency.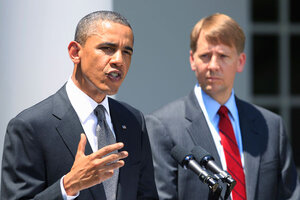 Manuel Balce Ceneta/AP
President Obama on Sunday at last named his choice to lead the new consumer-watchdog agency created by Congress in sweeping financial reforms a year ago.
The nominee's chances of being approved by the Senate, however, are about as good as the chances of a blizzard in Alabama this weekend, say Washington insiders.
It's nothing against the man himself, former Ohio attorney general and five-time "Jeopardy!" champ Richard Cordray. Rather, it's Republicans' concerns about the entire agency, called the Consumer Financial Protection Bureau (CFPB). They say its organization runs counter to the constitutional principles of checks and balances and argue it is "one of the least accountable and most powerful agencies in Washington."
Until Mr. Obama addresses their concerns, Republicans have vowed to block the appointment of a director. The bureau is scheduled officially to open Thursday.
"There is a lot of bad blood between congressional Republicans and the bureau over enforcing the [financial reform] Dodd-Frank Act even before they officially open their doors," says consultant Pete Davis of Davis Capital Investment Ideas and a former congressional staffer.
---