Senate hearing chronicles costs of DOMA: lost dignity, financial ruin
In emotional testimony, married gay and lesbian couples testified before a Senate committee as to the costs – financial and emotional – of the Defense of Marriage Act. The Senate is considering a repeal.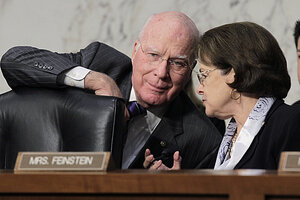 J. Scott Applewhite / AP
The Senate Judiciary Committee heard heartfelt, emotional testimony on Wednesday about how the federal Defense of Marriage Act is undercutting the financial security of gay and lesbian married couples by treating their legal, committed relationships as "second-class marriages."
"DOMA imposes a gay exception to the way the government treats all other married couples," Evan Wolfson, president of Freedom to Marry, told the panel. "It stigmatizes people by dividing those married at the state level into first-class marriages and second-class marriages for those the federal government doesn't like," he said.
"In America, we don't have second-class citizens, and we should not have second-class marriages."
Mr. Wolfson's comments came during a two-hour Senate hearing to examine financial and other impacts of DOMA. The law, passed in 1996 and signed by President Clinton, restricts the receipt of federal benefits to marriages between one man and one woman. It bars gay and lesbian married couples from taking advantage of some 1,100 federal benefits, ranging from filing joint tax returns to qualifying for side-by-side burial in a US military cemetery.
A group of senators and members of Congress have introduced the Respect for Marriage Act, which is an effort to repeal DOMA. Doubts persist over whether the bill can pass the Republican-controlled House.
---