Saturday's debt-ceiling surprise: GOP and Obama are talking again
After a rancorous day in which Republicans vented their anger at the Senate and President Obama, GOP leaders said they are in talks with the president and that 'the country is not going to default.'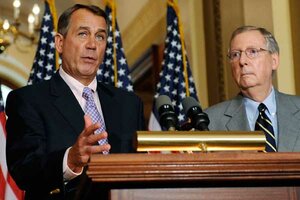 Jonathan Ernst/REUTERS
There were signs of movement toward a potential resolution of the federal government's debt ceiling crisis after both the House and Senate met in unusual Saturday sessions notable for partisan fireworks.
House minority leader Nancy Pelosi (D) of California and Senate majority leader Harry Reid (D) of Nevada were called to the White House for a 3:30 p.m. meeting about debt-ceiling negotiations with President Obama.
At about the same time on Capitol Hill, House Speaker John Boehner (R) of Ohio and Senate minority leader Mitch McConnell (R) of Kentucky gave a press conference and expressed optimism about reaching a settlement that would keep the nation from being unable to borrow enough to pay its bills.
Senator McConnell said that he had spoken to both Mr. Obama and Vice President Joe Biden "in the last hour," and that the White House was "now fully engaged" in conversations with the two Republican leaders about the debt-ceiling crisis. Speaker Boehner said he and McConnell were "both confident" they could "end this impasse."
McConnell added, "Our country is not going to default. We are going to get a result."
---