Is OnStar turning your car against you? Senator Schumer thinks so.
Senator Schumer of New York criticizes in-vehicle emergency tool OnStar because it collects information about its users even after they cancel the service. It's the latest flareup over whether new technologies are violating users' privacy rights.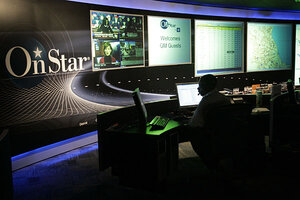 Carlos Osorio/AP/File
OnStar, the in-vehicle emergency service, is the latest technology coming under fire from privacy advocates who say it is unfairly conducing surveillance on its users without their permission.
Several US senators, led by Charles Schumer (D) of New York, are asking the company to abandon the practice, which he and others say is becoming pervasive. Senator Schumer is also asking the Federal Trade Commission to investigate OnStar following the company's announcement last week that it will continue to track the movement and speed of users even after they cancel the service, which is available by subscription.
Apple, Facebook, and Google have also come under fire this year over concerns about unwanted surveillance. The problems are the product of technological advancements that have outpaced privacy regulations, say analysts, with OnStar offering further evidence of how companies can collect data about their customers.
OnStar is owned by General Motors and, according to the company, is available in 40 2011 model vehicles. More than 6 million people have the service, the company says.
In a letter sent to OnStar's president, Linda Marshall, Schumer called the policy a "brazen invasion," particularly because the company acknowledges it will maintain a connection with the user's vehicle even after the user opts out of the service.
---