Occupy Wall Street plans biggest marches yet, but can it avoid pitfalls?
'Occupy Wall Street' is planning its biggest action yet: marches Saturday nationwide. But as the movement tests the tolerance of police and cash-strapped cities, can it keep its message positive?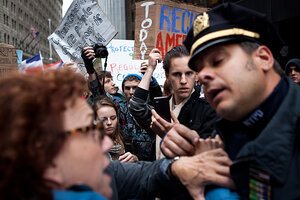 John Minchillo/AP
More and more, "Occupy Wall Street" is on the move.
Following a week that saw a "millionaires' march" by the homes of the wealthy and powerful in New York and rallies outside banks in downtown Los Angeles, the protest movement is preparing for its biggest action yet: marches this Saturday by all 1,300-and-counting Occupy chapters worldwide.
But as this transition from words to action escalates, so do brushes with local authorities. Scores of Boston protesters were arrested for camping on the wrong lawns, while 12 activists were arrested and charged with trespassing for refusing to leave the lobby of a downtown Los Angeles branch of Bank of America.
Those increased confrontations with the law could be politically perilous for the movement, which, say observers and the protesters themselves, is at a critical stage in defining its purpose and its goals.
A Reuters-Ipsos poll released Wednesday shows that while 82 percent of Americans are aware of the Occupy movement, 38 percent feel favorably toward it and 24 percent view it unfavorably.
Occupy's message is getting through to the public for now, but an escalation of violent encounters could easily overwhelm that, says Richard Levick, CEO of Levick Strategic Communications, a firm that specializes in crisis management.
"The Occupy Wall Street movement must not allow clashes with police or fringe elements [within the movement] to define who it is, or it will cease to exist," he says.
---