New Obama jobs bill: Do too many Democrats view it as 'bailout lite'?
The White House is pushing a new $35 billion jobs bill to stave off layoffs for teachers, firefighters, and police. But moderate Democrats are balking at parts of the plan.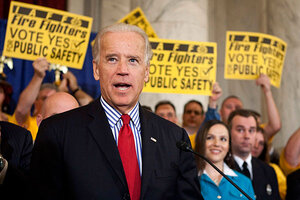 Joshua Roberts/REUTERS
Firefighters, in town to lobby for a $35 billion jobs bill, so jammed a cavernous Senate hearing room that many had to be asked to leave – for exceeding the fire code.
"This is an emergency," Vice President Joe Biden told cheering public-service workers at the rally, citing at least 300,000 teachers, 10,000 law enforcement officers, and 7,000 firefighters laid off in the past 18 months.
"The police chief of Camden [N.J.] has lost half of his force, and crime has gone through the roof," he added. "It's not really the fault of the mayor or the governor. They don't have the money because of this God-awful mess we got put into."
With more layoffs for public-service workers pending across the nation, the stakes are high for the bill, but so are the hurdles in the US Senate.
The bill is a smaller version of the $447 billion jobs bill promoted by President Obama but rejected by the Senate Oct. 12. It would provide federal money to help protect public-sector jobs.
But Republicans say the new bill is "bailout lite," paid for by raising taxes – a 0.5 percent tax on incomes over $1 million. That's a nonstarter for most Republicans.
---