Oakland strike: For Occupy protesters, frenzied rumors before march on port
With the worldwide movement watching the Occupy Oakland strike, hundreds of protesters target banks and swap rumors before the day's main dramatic act: a march on the Port of Oakland.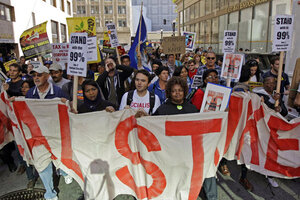 Ben Margot/AP
With the eyes of the international Occupy movement turned toward Oakland Wednesday, protesters and officials did their earnest best to justify the intense scrutiny. Despite a flurry of exhortations, misinformation and official press conferences – what ensued for most of the day was a largely peaceful protest by hundreds of marchers.
But the rumors did fly, especially regarding Occupy Oakland's prize target of its day of mass action, the shutdown of the Port of Oakland in solidarity with longshoremen in Washington State.
From early in the morning word was broadcast that the port was shut by a wildcat strike hours before the Occupy marchers even moved in its direction. That was followed by a denial from International Longshoreman and Warehouse Union spokesperson Craig Merrilees. "We are absolutely not calling for a strike," he said.
At a 12:30 news conference, however, the official word from the city was more, well, nuanced. The situation at the port is "fluid," officials said.
Whether the Occupy Oakland protesters had achieved other goals they set themselves was also under constant review: How many business shut down in solidarity? How many workers were on strike? How many marchers showed up?
Many stores did close and numerous public employees such as teachers and nurses did take the day off to show solidarity with the group's call for a citywide general strike. City officials said some 5 percent of city employees took the day off. As the day wore on, police estimates put the crowd size at swelling to around 1,000.
Some shuttered stores openly declared support, such as The Men's Wearhouse, which posted a window sign, "We stand with the 99%. Closed Wednesday, Nov. 2."
Other small businesses such as the Payless Shoe Store on Broadway remained open (marchers need shoes, right?).
But foremost on the protesters' minds was whether or not the Port of Oakland had been shut down, as many exuberantly declared early in the day.
According to Cecily Burt, a reporter who covers West Oakland for the Contra Costa Times, some 40 of the roughly 325 expected longshoreman due for the morning shift did not report for work Wednesday. A number of those workers turned up among the marchers, she noted, but over at the port, "the gates and terminals are open."
---