Tim Thomas and the Obama snub: free speech or impolitic politics? (+video)
Tim Thomas, Boston Bruins netminder and Vezina Trophy winner, skipped a White House event Monday to honor the team's Stanley Cup-winning season. He cited a government that is 'threatening the rights, liberties, and property of the people.'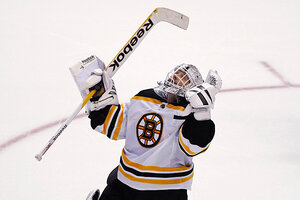 Tim Shaffer/Reuters
If the "Don't tread on me" Gadsden flag reference on Tim Thomas' goalie mask hadn't made the point clearly enough, the netminder's decision to skip the Boston Bruins' team meeting with President Obama on Monday certainly did.
Yes, Thomas, arguably the most dynamic goalie in the NHL, is a tea partyer, a believer in less, not more, government. But Thomas' White House snub, in which he cited "threats" to individual liberty by a government growing "out of control," made the Stanley Cup MVP an instant pariah among many Bruins fans in liberal Boston, where one columnist labeled his move "bratty."
But the decision may also be resonating with those who believe that individual conviction trumps collective celebrations. The bearded puckstopper is imbued with a flinty, blue-collar work ethic, but his own career arc – 217th draft pick to No. 1 NHL goalie – also embodies the classic rags-to-riches American story that seems to have forged a strong personal defense of, as Thomas writes, "the Constitution and the Founding Fathers' vision for the Federal government."
---