Appalled by sequester cuts, House begins efforts to avoid them
The House on Thursday passed a measure that would spare the Pentagon from looming cuts by making deeper cuts to social programs. But Congress isn't expected to get serious about altering the debt deal's $109 billion sequester until after the November election.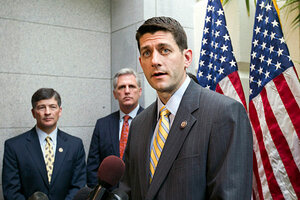 J. Scott Applewhite/AP
On a party-line vote, the House passed a plan Thursday aimed at saving the Defense Department from the automatic cuts mandated by last year's debt-ceiling deal by instead making cuts to social services and President Obama's health-care law, as well as raising pension contributions from federal workers.
The legislation, which passed 218 to 199 with no Democratic votes, is an attempt to alter the sequester – the debt deal's across-the-board cuts to the Pentagon and to social services, which are set to take effect Jan. 2, 2013, because Congress failed to come up with an alternative.
The measure is certain to die in the Democrat-held Senate, and it has its critics on both sides of the aisle in the House, too – though for vastly different reasons.
To the left, it is an all-out assault on the poor and the elderly. "It asks for more of those who have less and less from those who have more," said House minority whip Steny Hoyer (D) of Maryland on the House floor.
Some Republicans, meanwhile, say the bill is merely election-year political cover. It allows House Republicans who voted for the debt-ceiling increase to say that they voted for a measure that would have offset that increase – while at the same time preserving precious Pentagon funding.
"This is a smokescreen to protect people who voted to raise the debt ceiling," said Rep. Jeff Landry (R) of Louisiana on Wednesday. "Listen, I like the cuts. Why couldn't we have had those cuts last year?"
---