Team Obama takes attacks to Mitt Romney's home turf
Obama strategist David Axelrod shouted over protesters at the Massachusetts State House as he attacked Romney's record as governor. Romney countered at California's shuttered Solyndra plant.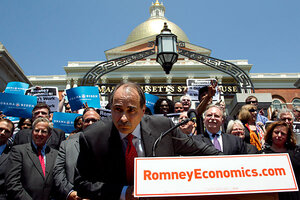 Steven Senne/AP
Team Obama went after Mitt Romney on his home turf Thursday, criticizing his tenure as governor of Massachusetts from the steps of the State House and in a video that features local Democrats taking apart Mr. Romney's record.
Struggling to be heard over protesters at the State House event, top Obama strategist David Axelrod cast Romney's record in the harshest possible terms. Under Romney, Mr. Axelrod said, Massachusetts was 47th in the nation in job creation, manufacturing jobs vanished at twice the national rate, and household incomes fell.
"You can shout down speakers but it's hard to Etch-a-Sketch the truth away," Axelrod said.
Supporters for both campaigns gave the event a carnival-like atmosphere. Obama supporters carried signs saying "Romney Economics: It Didn't Work Then, It Won't Work Now," a line Axelrod repeated in his remarks. The pro-Romney supporters shouted "We want Mitt!" and "Solyndra! Solyndra!" – a reference to the solar manufacturer that received more than $500 million in loan guarantees authorized by the Obama administration, only to go bankrupt. In a bit of counterprogramming Thursday, Romney criticized Obama's energy policies from the steps of the shuttered Solyndra plant in Fremont, Calif.
Axelrod offered a wholly negative interpretation of the Romney years and ignored what he might have called the former governor's one bright spot: enactment of a health-care reform that became the model for Obama's national legislation. When Romney ran for governor in 2002, Axelrod said, he brought "the orientation of a financial engineer" that was all about making short-term profits. The result, he said, was poor job creation and an increase in taxes and debt.
---