Obama, Romney campaign surrogates duke it out on TV blabfests
While Mitt Romney and President Obama were finishing up a little summer down time, their campaign surrogates were arguing issues and candidate character on the Sunday TV talk shows.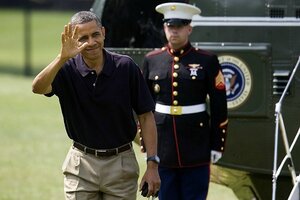 Jonathan Ernst/Reuters
Presidential campaign surrogates were all over the Sunday TV talk shows, defending their man and taking shots at their opponents.
For President Obama, the main subject was the economy – in particular the lackluster jobs and employment figures that have dogged him for months, plus charges of big government overreach with his health care act. For Mitt Romney, it was his personal economy – new revelations about blind trusts and offshore holdings, including a secret corporation in Bermuda.
(For their part, the two principals were relaxing – Romney on vacation with his large family at their vacation compound on Lake Winnipesaukee in New Hampshire, the Obamas just back from a weekend at Camp David.)
In Pictures: On the Campaign Trail with Mitt Romney
"This is the most tepid recovery – if it is a recovery – from a deep recession in American history," Senate Minority Leader Mitch McConnell said on CNN's "State of the Union." "The economy is just sputtering along and the reason for that, in my judgment, is because of what the administration chose to do: spend, borrow, pass this new Obamacare law with its penalty tax in it, its mandate tax."
---