Michigan battleground: Unions push to protect rights at the ballot box
A Michigan appeals court Wednesday considers the proposed 'Protect Our Jobs' measure, which would preserve collective bargaining rights. Unions want to get it onto the Nov. 6 ballot – and into the state constitution.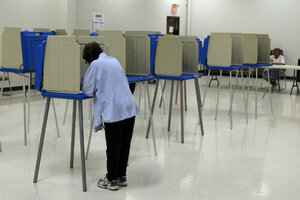 Carlos Osorio/AP/File
The clock is ticking in Michigan for a union-backed ballot initiative that would change the state constitution to ensure the collective bargaining rights of public and private workers. A state appeals court takes up the matter Wednesday, and both sides say they are prepared to carry the fight all the way to the Michigan Supreme Court.
A four-person Board of State canvassers tasked with approving ballot language has already deadlocked on the issue, along party lines. Wednesday's hearing in an appeals court in Lansing, Mich., marks the next phase of a standoff between some of the state's most powerful labor organizations and GOP Gov. Rick Snyder (R), who says the ballot measure is too broad and, if approved by voters, could nullify more than 170 state laws now affecting unions.
The final decision must be rendered by Aug. 27, the deadline to finalize the Nov. 6 ballot.
Since the 2010 election, unions have struggled under new Republican majorities in Midwestern states that have pushed for legislation to curb the rights of public-sector workers in the name of closing gaping budget deficits and attracting new businesses. Wisconsin, Indiana, and Ohio passed legislation curbing union rights, and Michigan has required its public workers to pay more of their health and retirement costs. While Ohio voters later overturned GOP Gov. John Kasich's signature law rolling back collective bargaining rights for public workers, Wisconsin voters backed Gov. Scott Walker, who survived an epic recall vote in June, organized by unions.
---