California a political model? Golden State has most competitive elections.
Known for gridlock and dysfunction, California has the most competitive elections, according to a new survey. It's the result of state political reforms that are now taking effect.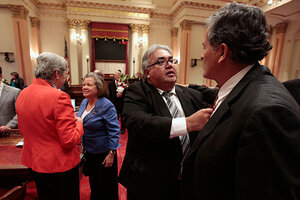 Rich Pedroncelli/AP
Elections for the California state Legislature are the most competitive in the country this year, according to a new analysis, suggesting that wholesale reforms here are beginning to change a political system known for perpetual gridlock.
Whether those changes will improve California government – and whether they will last – remain to be proven, many experts say. But competitiveness is a key measure of political vibrancy and the report is a positive sign for Golden State politics, they add.
"Competitiveness gives voters a real choice in elections," says Steven Schier, political scientist at Carleton College in Northfield, Minn. "It is an essential element for popular control of government."
California has fared well in the previous two editions of Ballotpedia's State Legislative Electoral Competitive Index, finishing eighth in 2010, for example. Yet its improvement in one key area of the online almanac's survey – "Do incumbents face a primary challenger?" – has been dramatic. In 2010, 9.7 percent of California incumbents faced a primary challenger. This year, the figure has jumped to 35.7 percent.
(The two other elements of the Ballotpedia ranking deal with whether an incumbent is running and whether there are two major-party contestants in the general election.)
---