Fix the Debt: CEOs launch drive for 'grand bargain.' Is Washington listening?
The Fix the Debt CEOs, who are dedicated to pushing Washington toward a deficit-reducing 'grand bargain,' say they were appalled by the reckless debate over the debt ceiling in 2011.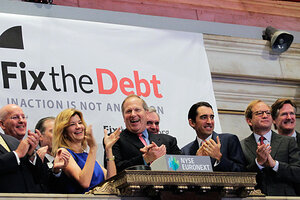 Brendan McDermid/Reuters
A dozen CEOs and business leaders rang the opening bell at the New York Stock Exchange Thursday morning with a message for lawmakers in Washington: Come November, you're going to be hearing a lot more from corporate America about getting the nation's finances in order.

The business executives were visiting the heart of global capitalism to kick off the more than 80-strong CEO Council of the Fix the Debt campaign.
Fix the Debt, an offshoot of a Washington think tank, is committed to pushing Washington toward a deficit-cutting "grand bargain" to solidify America's finances for the next several decades.
Fix the Debt was co-founded by former Clinton White House chief of staff Erskine Bowles and former Republican Sen. Alan Simpson, who together co-chaired the bipartisan National Commission on Fiscal Responsibility and Reform at the behest of President Obama.
The CEOs will play an integral part in a post-election advocacy campaign by raising the issues of long term debt and deficits with members of Congress, holding town halls with their employees and the public, and working with members of Congress to develop policy solutions, said Maya MacGuineas, president of the Committee for a Responsible Federal Budget, the think tank behind Fix the Debt.
---