Obama's 'in your face' cabinet picks: why he chose Chuck Hagel, John Brennan
President Obama officially nominated Chuck Hagel for Defense secretary and John Brennan for CIA chief Monday. Each brings a unique view of the organization he would lead.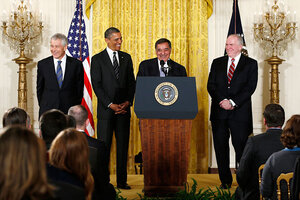 Carolyn Kaster/AP
At a White House ceremony Monday, President Obama nominated two controversial picks to round out his national security team: Former Nebraska Sen. Chuck Hagel for secretary of Defense and counterterrorism adviser John Brennan to head the Central Intelligence Agency.
The president acknowledged the contention in announcing his choices.
Bucking conventional wisdom is, he said, "exactly the spirit I want on my national security team."
Mr. Obama signaled that he placed a premium on nominees who understand the organizations they will lead from the bottom up.
Mr. Brennan, who worked at the CIA for 25 years, offers the agency "one of your own," he said.
And Mr. Hagel was an enlisted infantry soldier who earned two Purple Hearts in Vietnam. That gives him a "frame of reference," Obama said, that is "geared towards the guy at the bottom who's doing the fighting and the dying."
The nods come as little surprise after weeks of speculation, which has included robust critiques of the potential nominees – and no small measure of censure aimed at the White House for floating potential nominees without actually naming them.
This move, critics point out, has made it easy for opponents to pan the prospective cabinet picks and far trickier for supporters to defend them.
With the White House announcement, administration officials hope it will become more politically risky for critics to speak out. But the outcry is expected to continue.
Hagel, for his part, will face the toughest opposition from within his own party.
That became clear over the weekend, as Republicans signaled that objections to his policy would likely trump the deference lawmakers traditionally accord one of their own.
---