Hagel, Brennan, and history: How often does Senate reject cabinet nominees?
(Read article summary)
The Senate has only rejected two presidential cabinet picks since World War II – though six others have withdrawn their names, and the process is becoming more contentious.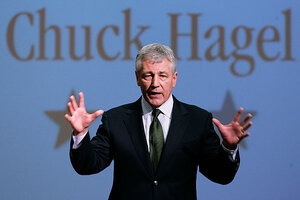 Nati Harnik/AP/File
How often does the US Senate reject presidential cabinet nominations? That question comes up because President Obama on Monday announced two somewhat controversial picks for top executive-branch posts.
Secretary of Defense nominee Chuck Hagel, a maverick former GOP senator from Nebraska, will face tough questions over his positions on Israel and Iran during confirmation proceedings. Mr. Obama's choice to head the Central Intelligence Agency, current counterterrorism adviser and former CIA official John Brennan, will be grilled by some senators over the agency's use of enhanced interrogation techniques during his tenure.
It's certainly possible that one or both of these nominations could stall on Capitol Hill. Mr. Hagel, in particular, looks headed for a tough fight. But both nominees can take some comfort in historical numbers. Traditionally, the Senate gives presidents more leeway on executive-branch appointments than it does on Supreme Court picks, on the theory that they are not lifetime appointments and that the president needs to work with people he can trust. Senators block cabinet nominees about 2 percent of the time.
---