In rural America, some sheriffs vow to defy Obama on gun control
Some rural lawmen say they will refuse to enforce the president's gun-control proposals if they become law. The comments highlight why gun control is such a thorny topic.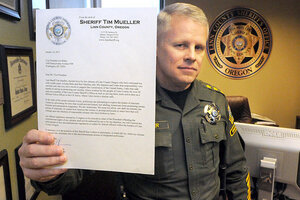 Mark Ylen/Albany Democrat-Herald/AP
A vocal contingent of rural lawmen and red-state lawmakers say they won't go along with any new federal crackdowns on the ability of law-abiding Americans' to own guns, and that they'll even side with residents against federal authority in any gun seizure cases resulting from looming gun-control measures.
Remarking on "worrisome times," Sheriff Stacy Nicholson of Georgia's Gilmer County writes on Facebook that "I, along with a large number (which is growing daily) of Sheriffs across the state of Georgia as well as the entire United States, have no intention of following any orders of the federal government to perform any act which would be considered to be unlawful or a VIOLATION OF ANY PART OF THE CONSTITUTION OF THE UNITED STATES OR THE CONSTITUTION OF THE STATE OF GEORGIA, nor will we permit it to be done if within our power to prevent it."
On Wednesday, the president proposed an ambitious package of what he called "common sense" gun-control laws in response to the Sandy Hook Elementary School massacre and other mass shootings in recent years. In addition to 23 executive orders, President Obama urged Congress to pass a new assault-weapons ban, a ban on high-capacity magazines, and a requirement for universal background checks of gun buyers.
The move has set off an debate that threatens to intensify the urban-rural divide in America and could complicate the enforcement of any new gun laws by federal agents in certain parts of the country.
One law-enforcement group is pushing to get at least 1,200 out of the nation's 31,000 sheriffs to publicly oppose the proposed laws, and legislators in at least two states – Wyoming and Texas – have vowed to introduce bills that would make it a felony for a federal agent to apply any new gun-restriction law against residents of those states.
The pushback recalls the 1997 Printz v. United States decision, in which the Supreme Court found that Congress can't force police officers to do its will – in that case, carry out an interim provision of the Brady Act, which mandated local background checks of firearms purchasers.
---