Is US-Mexico border secure enough? Immigration reform could hinge on answer.
What did the post-9/11 border patrol surge of manpower and equipment achieve? Understanding its successes and failures could be crucial to the new immigration reform effort.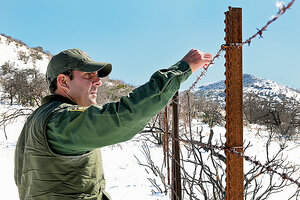 Shari V. Hill/Las Cruces Sun-News/AP
Travelers on Interstate 19 don't need any "Welcome to Mexico" signs to know that the border is near.
Twenty-five miles north of the line, a giant white canopy stretches over the northbound lanes, with green-shirted border patrol agents and drug-sniffing dogs buzzing around the checkpoint. Farther south in Nogales, Ariz., green-and-white border patrol vehicles are as conspicuous as yellow cabs in New York, and stadium lights trained on the border fence dwarf the rustic Sonoran homes below.
Ten years ago, the permanent checkpoint, the stadium lights, and the ubiquity of those green-and-white cars would have seemed jarring. But since 9/11, America's southern border has changed. President George W. Bush's most famous surge might have been in Iraq, but along the US-Mexican border, he also presided over a doubling of manpower and a shift in the border patrol's mission to make it a tool in the war on terror.
Now, as Washington considers immigration reform, the border patrol and its mission are again in the spotlight. Many Republicans say reform, without increased border security, is a nonstarter. But Mr. Bush's surge offers lessons about what can realistically be accomplished – and what tops an unfinished to-do list.
Statistical and anecdotal evidence show there has been progress in reining in illegal immigration, most agree. But there have been unintended consequences, such as the rise in human trafficking to avert the border buildup. Moreover, many stakeholders remain divided about whether the border needs even more attention, or whether the United States should shift its focus on immigration-enforcement efforts inward.
---