With Planned Parenthood speech, Obama jumps into abortion debate
Dozens of states have moved to restrict access to abortion in recent months. Speaking to Planned Parenthood Friday, President Obama vowed to fight this trend.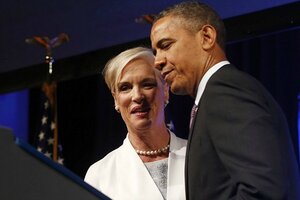 Charles Dharapak/AP
President Obama became the first sitting US president to address Planned Parenthood Federation of America Friday. His comments, addressed to the organization's annual conference in Washington, are particularly notable as they come in a year when 42 states have introduced legislation imposing limits on abortion access.
Speaking to about a thousand supporters of the organization, which is a leading sexual and reproductive health care advocate and provider for women, Mr. Obama described himself as "a president who's going to be right there with you, fighting every step of the way."
He lauded the organization's work in providing cancer screening and contraceptive health care, and criticized attempts by conservatives to use the organization as "a punching bag."
"After decades of progress, there's still those who want to turn back the clock to policies more suited to the 1950s than the 21st century. And they've been involved in an orchestrated and historic effort to roll back basic rights when it comes to women's health," he said.
Obama's appearance coincided with a wave of state legislation aimed to restrict access to abortion, according to the Guttmacher Institute, a non-profit think tank in Washington that researches and tracks policy involving sexual and reproductive health.
The organization says that in the first three months of 2013, state legislators in 42 states introduced 694 provisions related to reproductive health and rights, 93 of which have been approved by at least one legislative body. About half, or 47 percent, of the measures seek to restrict full access to abortion.
Legislators in 10 states have introduced proposals to ban all, or nearly all, abortions while 10 other states have passed, or are positioned to pass, legislation to ban abortions after 20 weeks of pregnancy.
Obama criticized some of the measures, particularly a North Dakota law passed in March that bans abortions as early as six weeks, or when a fetal heartbeat is detected.
---