Why new law makes North Dakota most anti-abortion state
The fetal-heartbeat law, signed by the governor Tuesday, bans abortion as early as six weeks of gestation. North Dakota is also poised to consider a 'personhood amendment' to its state constitution, which would ban abortion altogether.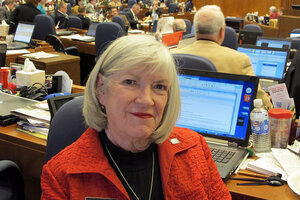 James MacPherson/AP
Jack Dalrymple, the Republican governor of North Dakota, signed into law Tuesday the most far-reaching restriction on abortion by any state in the country. It bans abortion as soon as a fetal heartbeat is detectable, which in some cases is as early as six weeks of gestation.
Legal scholars say the law is likely to be found unconstitutional in federal court, in light of the Supreme Court's Roe v. Wade ruling of 1973. Under Roe, abortion is legal until the fetus is viable outside the womb, usually at 22 to 24 weeks.
In a statement, Governor Dalrymple himself questioned whether the measure would survive a court challenge. But, he continued, "this bill is nevertheless a legitimate attempt by a state legislature to discover the boundaries of Roe v. Wade."
With its new law, North Dakota has leapfrogged over Arkansas as the state with the most restrictive anti-abortion law in the country. Early in March, Arkansas banned abortion beginning at 12 weeks of pregnancy, the point at which a fetal heartbeat can be detected with an abdominal ultrasound.
In addition to North Dakota, the Arkansas measure spurred advocates to push for fetal heartbeat legislation in Kansas, Kentucky, Mississippi, Ohio, and Wyoming, according to Kaiser Health News.
The North Dakota law does not specify how a fetal heartbeat would be detected, but if a more-invasive technique is used – transvaginal ultrasound – a heartbeat can be detected at six weeks. Dalrymple signed two other abortion-related measures Tuesday, one that requires a provider to be a doctor with admitting privileges at a local hospital, and another that outlaws abortions for sex selection or in cases of genetic abnormalities.
---