Social Security and Medicare: time running out to fix them, trustees say
The Social Security trust funds are on track to go bankrupt in 2033, with payroll taxes only paying for about three-quarters of benefits The Medicare trust funds will deplete even sooner.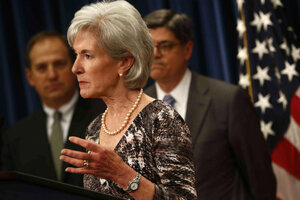 Charles Dharapak/AP
The underlying financial condition of Social Security and Medicare did not change greatly in 2012 and both are still on borrowed time, trustees of the massive, politically sensitive programs said in separate annual reports issued Friday.
The longer Congress waits to deal with the financial shortfalls both programs face due to an aging population, the more painful the solutions will need to be, the trustees said. The window for effective action "is in the process of closing ... as we speak," public trustee Charles Blahous warned at a briefing for reporters. "The primary story this year for Social Security is the cost of another year's delay," he added.
Projections for Social Security's financial health are "essentially unchanged," Treasury Secretary Jacob Lew said. The trust funds for retirement and survivors benefits and a separate fund for disability payments, when considered together, have a projected depletion date of 2033, unchanged from last year's annual report. After the reserves were depleted, continuing payroll tax receipts would be sufficient to pay three quarters of promised benefits through 2087.
Medicare trust funds run out of money sooner than those for Social Security. The trustees say the Medicare Hospital Trust Fund – one of two funds that support the program – will have enough money to cover its obligations fully until 2026 – which is two years longer than predicted in last year's report. After that, the share of hospital costs that could be financed with payroll tax revenues would decline from 87 percent in 2033 to 70 percent in 2050 and later, the trustees said.
Health and Human Services Secretary Kathleen Sebelius, one of the trustees, said that President Obama's Affordable Care Act "has helped put Medicare on more stable ground," without eliminating services to recipients through various cost-reducing measures.
---