Obama's record on job creation: How good or bad?
The question of jobs is central to Election 2012. Mitt Romney claims President Obama has been a failure, while Obama says he's presided over steady growth. Decoder sweeps aside the spin.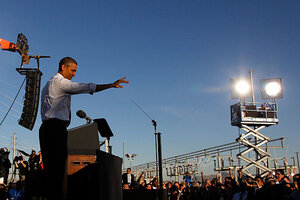 Haraz N. Ghanbari/AP/File
When the latest monthly numbers on job creation came out on Sept. 7, the candidates for president went into spin mode full tilt. President Obama touted that "business once again added jobs for the 30th month in a row," while Republican Mitt Romney said the 95,000 people who found jobs in August were outnumbered by nearly 400,000 people who dropped out of the labor force, apparently in discouragement.
With only about six weeks before the election, their sparring over the state of the economy points to a question that both campaigns know is on the minds of undecided voters: Does Mr. Obama have a solid track record on jobs, or have key policy efforts of the past four years failed?
The evidence, viewed through the lens of history and expert analysis, arguably points to a presidency that helped to jump-start a rebound from deep recession – but that perhaps could have achieved more to bring down unemployment.
At the outset, though, it's important to note that the economy is in many ways outside the direct control of any president. Government policies are just one of many forces that influence the economy for better or worse. At the same time, many economists say federal policies – by Obama, President Bush, Congress, and the Federal Reserve – have played an unusually important role in the economy over the past five years or so, since the financial crisis began.
---