Obama's Medicaid expansion: How many states are likely to rebel?
The Supreme Court ruled that states do not have to abide by the expansion of Medicaid under President Obama's health-care law. There are strong economic arguments on both sides.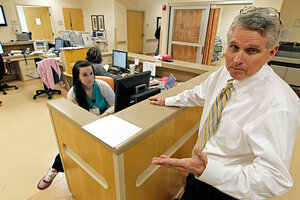 Rogelio V. Solis/AP/File
What states will participate in Obamacare's expansion of the Medicaid program? The answer to that will have a profound effect on national and state health-care budgets and the number of uninsured US residents for years to come.
The president's signature Affordable Care Act (ACA) raises the income level for Medicaid eligibility up to 133 percent of the federal poverty line. That's one of the major ways the health reform attempts to expand coverage. If all states participate, 21 million will get Medicaid coverage, reducing the number of uninsured in America by 48 percent, according to a Kaiser Family Foundation analysis.
But the US Supreme Court ruling that upheld ACA's core individual mandate for health insurance also held that Uncle Sam can't make states go along with the Medicaid expansion. So right now, governors and state legislators across the country are facing a tricky decision: Should they dive in and accept the expansion? After all, the federal government is promising to pay virtually all the costs of such a move, at least for now.
Or should they decline to join in something that could eventually gobble a larger share of their states' budgets?
So far, twice as many states have said "yes" than have said "no." According to a review by consulting firm Avalere Health cited in the Washington Post's Wonkblog, there are 17 participant states as opposed to nine confirmed nonparticipants.
---