Obama's budget gambit: Return of the 'grand bargain'?
President Obama is for the first time proposing a budget that includes changes to Social Security and Medicare. This infuriates the left but could open the door to compromise with Republicans.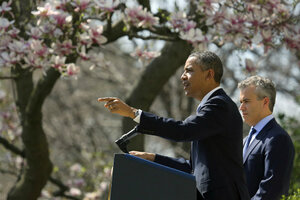 J. David Ake/AP
For the first time, President Obama has proposed changes to Social Security and Medicare in his annual budget proposal – triggering outrage on the left and grudging credit from some Republicans.
Nobody is completely happy with the president's budget, including Mr. Obama himself, as he made clear in his Rose Garden remarks Wednesday when he spoke of changes to entitlements.
"I don't believe that all these ideas are optimal," the president said, not even referring to Social Security by name, "but I'm willing to accept them as part of a compromise if and only if they contain protections for the most vulnerable Americans."
Despite the tone of trepidation, Obama is taking a bold step along the path of the last Democratic president, Bill Clinton, who saved his presidency – and won reelection – by engaging in a technique known as "triangulation": Offer an olive branch to your political opponents, anger your base supporters, and thereby place yourself somewhere in the middle as a launch point for negotiations.
Obama's gambit comes partially in a concept called "chained CPI" – an alternative way of calculating the Consumer Price Index, a.k.a. inflation, that reduces the annual cost-of-living increase that seniors receive in Social Security. The budget includes protections for the very elderly and others who rely on Social Security for long periods of time, the White House says. All told, the switch to chained CPI would save the government $230 billion over 10 years.
---