McConnell secret tape: Liberal group blamed, but Ashley Judd still an issue
A Democratic official blames two men from Progress Kentucky for recording a McConnell campaign strategy session. But mockery of Ashley Judd's mental health past is still fodder for Democrats.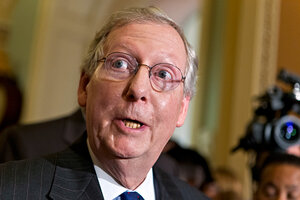 J. Scott Applewhite/AP
Two members of the liberal group Progress Kentucky have been identified as the secret recorders of a strategy session for the reelection campaign of Sen. Mitch McConnell of Kentucky, the top Republican in the Senate.
The Feb. 2 audio recording, which was leaked to Mother Jones magazine and posted online Tuesday, revealed plans by the McConnell campaign to go after actress Ashley Judd over her mental health struggles and religious views, had she decided to run against Senator McConnell. Ms. Judd has since decided not to run.
The two men from Progress Kentucky – Shawn Reilly and Curtis Morrison – said they secretly recorded the meeting while standing in the hallway outside the room, according to Jacob Conway, a member of the executive committee of the Louisville/Jefferson County Democratic Party. Mr. Conway reported the two men's claim in an interview with WFPL, an NPR affiliate in Louisville, Ky.
The secret recording sparked outrage by both Democrats and Republicans. Democrats were outraged that the McConnell campaign was prepared to attack Judd over her struggles with depression, including suicidal thoughts as a child, as detailed in her memoirs. Republicans were upset over what they called "Watergate-style tactics" afoot in the 2014 campaign.
---