Morning-after pill: how the politics of Plan B changed for Obama
In a change of course, the Obama administration has cleared the way for Plan B One-Step to become easily available to women and girls of all ages. Social conservatives are furious.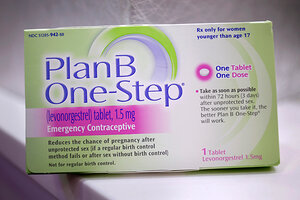 Shannon Stapleton/Reuters
After 14 years, the legal battle over access to Plan B – emergency contraception – has ended. The Obama administration announced late Monday that it is dropping its effort to limit sales of the most common morning-after pill, in the face of judicial opposition.
Soon, women and girls of all ages – not just those age 15 and older – will be able to buy the drug over the counter without restrictions. The drug is designed to prevent pregnancy up to 72 hours after unprotected sex.
The decision came after a string of legal defeats, most recently last Wednesday, when the US Court of Appeals for the Second Circuit refused to delay part of a lower-court judge's order to make the pill available over the counter to people of all ages.
The handwriting was on the wall, and the Justice Department apparently concluded that it would be an uphill climb in court to limit access to the controversial pills. The issue could well have ended up in the US Supreme Court, putting the Obama administration in the uncomfortable position of arguing for restrictions strongly opposed by a core constituency – groups that support broad reproductive rights.
"There was no imaginable possible political gain for them in continuing to fight this," says David Garrow, a law professor at the University of Pittsburgh and expert on reproductive issues. "Anybody who would agree with them in opposing this already opposes them on everything else."
In December 2011, Health and Human Services Secretary Kathleen Sebelius took the unprecedented step of blocking the Food and Drug Administration's plan to approve the sale of Plan B One-Step over the counter without age restrictions. In public remarks, President Obama supported Secretary Sebelius's decision, citing his perspective "as a father of two daughters."
---