Town-hall presidential debate: what to know about Candy Crowley's rules
(Read article summary)
From an audience of 80 undecided voters at Tuesday night's presidential debate, CNN's Candy Crowley will select some to ask questions of President Obama and Mitt Romney. In question is how much leeway Crowley has to follow up or press the candidates.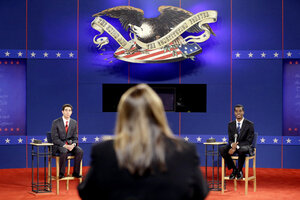 David Goldman/AP
If possible, the stakes for the next presidential debate, on Tuesday night at Hofstra University on Long Island in New York, seem even higher than they did the last time around.
For starters, now we've seen just how much a debate can change the race. And all eyes will be on President Obama to see if he can improve his performance from the first debate Oct. 3 in Denver.
The president's team is promising a more "energetic" performance.
But Mr. Obama – and GOP candidate Mitt Romney – will also have a new set of challenges in this debate, as they work with a whole new format.
Obama was criticized for not matching Mr. Romney's aggression in the last debate – but in a town-hall debate, where the emphasis must be on answering voters' questions in a personal, direct style, it can be harder to find opportunities to engage aggressively with the opposing candidate.
Since "town hall" debates were introduced 20 years ago, they've been a fixture in every presidential election season.
Here's what to expect:
• The audience will be made up of about 80 undecided voters, screened and selected by Gallup, the polling organization.
• Audience members will each submit questions in advance to moderator Candy Crowley, of CNN, and Ms. Crowley will choose which audience members to call on. Each candidate has two minutes to respond, and there will be an additional minute for Crowley to facilitate discussion. The audience member who asked the question is not permitted a follow-up.
---