Why Romney lost: Was the candidate the problem?
(Read article summary)
Yes, the GOP needs to do more to broaden its appeal to minorities, young people, and women. But Romney's problems in reaching voters may have had less to do with policy than personality.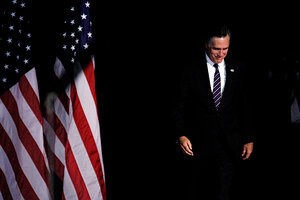 Stephan Savoia/AP
In 1992, Democratic strategist James Carville immortalized the phrase: "It's the economy, stupid," making the point that in the end, most presidential elections come down to something pretty simple.
And as we wade through all the post-mortem analyses about what went wrong for Republicans this year – They've permanently marginalized themselves as a party of old white men! They got schooled by the high-tech Obama turnout operation! They were sunk by the loony-tunes gaffes of tea party types! – well, we just keep coming back to something much more basic: "It was the candidate, stupid."
We take no pleasure in piling on Mitt Romney here. Running for president is hard, and losing (twice) is obviously a bitter pill. We hope Mr. Romney can take some solace in the knowledge that, as he said in his concession speech, he left it all on the field.
And there's no question that there are larger issues for Republicans to think through here – above all, how to win more support from Hispanics, the nation's fastest-growing voting bloc.
But we can easily envision a 2016 race featuring, say, Florida Sen. Marco Rubio, in which the GOP's share of the Hispanic vote suddenly, magically rises. Or a 2016 race featuring, say, New Jersey Gov. Chris Christie, that somehow manages to attract more young people and women.
---