Should Nancy Pelosi rightfully be speaker of the House?
(Read article summary)
The GOP is claiming a mandate for its policy positions because it retained control of the House of Representatives. But Democrats actually won more votes than Republicans did for House seats.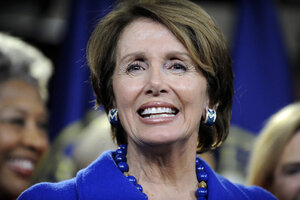 Mary F. Calvert/Reuters
Did the American people really "choose" divided government – by electing a Democratic president, a Democratic Senate, and a Republican House?
This may sound like a trick question, since that is, after all, the makeup of the federal government that emerged from last Tuesday's elections.
But Democrats, as well as many in the media, have been challenging this point, by arguing that the majority of voters did not actually choose to put Republicans in control of the House of Representatives – since nationwide, Democrats appear to have won more than half a million more votes for House seats than the GOP.
As a piece in The Huffington Post put it: "If the United States were really as democratic as it aspires to be, John Boehner would be House minority leader, not speaker of the House, Nancy Pelosi would be speaker, and Democrats would control the House, the Senate, and the presidency."
So how did House Republicans manage to hang onto power, despite losing the popular vote for House seats? One answer: through gerrymandering – the calculated redrawing of congressional districts to maximize the impact of their own political constituencies.
---