How bad is the GOP's image problem?
(Read article summary)
A new survey puts the GOP last in the ratings of 11 political figures and institutions. But the tide of US politics ebbs and flows – and in the 'fiscal cliff' negotiations, many Americans appear to be holding both sides accountable.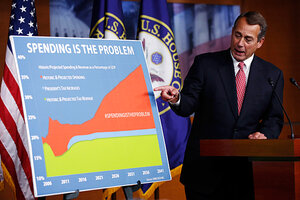 Kevin Lamarque/Reuters
How bad is the Republican Party's image problem? Pretty bad, according to the latest polls. A just-released NBC News/Wall Street Journal survey put the GOP dead last in the ratings of 11 political figures and institutions, for instance. Fully 45 percent of respondents said their feelings about the party of Abraham Lincoln were now "somewhat" or "very" negative.
Part of the GOP's problem is that losing a presidential election isn't good for your brand. Many voters probably still see the Romney campaign as the face of the party as a whole. Part of it stems from the fact that there are now more self-identified Democrats in America than Republicans. Partisans usually disapprove of the other US political team.
But there's no escaping the fact that in general, voters now see the GOP as an unappealing product. Asked an open-ended question about which word would best describe the party, 65 percent of respondents to the NBC/WSJ poll said something negative, such as "bad" or "outdated". It's as if it was a Ford Pinto, or bottled water for pets.
A Pew Research poll released Thursday had similar results. Only 25 percent of respondents approved of the way Republican leaders in Congress are doing their jobs. Democratic congressional leaders had a 40 percent approval rating in the Pew survey, while President Obama's comparable figure was 55.
---