Mitt Romney interview to air on Fox News. Is an Act 2 for him in the works?
(Read article summary)
Mitt Romney is inching his way back into the public arena. In an excerpt of the Fox News interview released Friday, he weighs in on the 'sequester,' commenting on President Obama's handling of it.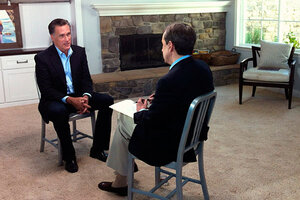 FOX News Channel/FOX News Sunday/Handout/Reuters
After lying low since losing the presidential election last November, Mitt Romney is inching his way back into the public arena – and taking steps to rehabilitate his reputation within the Republican Party.
First came the news that Mr. Romney is scheduled to speak at the Conservative Political Action Conference (CPAC) this month. Now, he's granted his first interview (along with his wife, Ann) to "Fox News Sunday," which will air in full this weekend.
In an excerpt released by Fox News on Friday, Romney weighed in on the "sequester," the across-the-board cuts to defense and nondefense discretionary spending that are about to take effect. "No one can think that that's been a success for the president," he told host Chris Wallace. "To date, what we've seen is the president out campaigning to the American people, doing rallies around the country, flying around the country, and berating Republicans. And blaming and pointing. Now what does that do? That causes the Republicans to retrench and then put up a wall and fight back. It's a very natural human emotion. The president has the opportunity to lead the nation and to bring Republicans and Democrats together. It's a job he's got to do, and it's a job only the president can do."
---