Black voter turnout up, but Dems can't take 'Obama effect' for granted
(Read article summary)
A new study signals that black voter turnout is up, but analysts say that Democrats can't assume the trend will last beyond the 'Obama effect.' Moreover, Republicans are reaching out to minorities.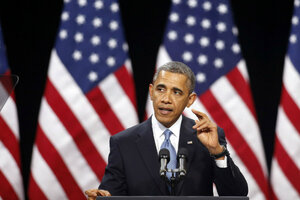 Isaac Brekken/AP/File
If you had any doubts, it's now official: President Obama has blacks to thank for his reelection. It turns out that record levels of black voter turnout propelled Obama to victory in 2012. So much so that if blacks had voted at 2004 levels, we'd all be saluting a President Romney right now.
We think Obama has a few million thank you cards to sign.
That's according to a new Associated Press-Brookings Institution analysis on 2012 election data that contains a few gems that both parties would be wise to examine.
Among the surprises: Latinos aren't as lucrative, votes-wise, as they appear to be – yet. And Democrats, who appeared to have cemented their role in 2012 as the minority party, shouldn't get too comfortable.
Here are four lessons the 2012 election post-mortem taught us about the minority vote:
Black voters can turn out
Voter ID laws. High unemployment among blacks. Low rates of registration. Lack of transportation and access to polling stations.
These were all supposed to keep blacks away from the polls last year, but they didn't.
Not only did black voters turn out, their turnout levels surpassed that of whites and most minority groups, including Latinos and Asians, in last year's elections.
---