Political extremism: Not so easy to categorize
(Read article summary)
Both sides in the political debate have tried to label the IRS suicide pilot and the Pentagon shooter. But the truth here is way beyond such facile political analysis.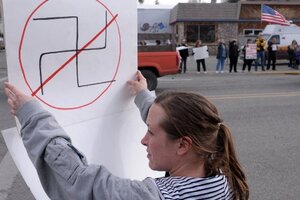 Pete Erickson/The Bulletin/AP
Over the years, extremist groups have come and gone, some in bursts of violence, some falling under the weight of an ideology that is patently ridiculous to all but a few true believers.
The Ku Klux Klan, the Aryan Nations, Christian Identity adherents, skinheads and neo-Nazis, state and local "militias" and "freemen" here and there. It's hard to pin them down along today's conservative-liberal political spectrum. Like many in today's "tea party" movement, they are nonpartisan. Or maybe "post-partisan" in a way President Obama never intended.
The man who flew his Piper aircraft into an IRS office building in Texas last month and the man who calmly walked up to the Pentagon entrance the other day and began firing his 9mm handgun at police officers are both dead now. They can't be questioned; what they believed and what led them to act can be gleaned only from the things they had written, posting their screeds online.
---