Robert Gibbs mocks the 'professional left': Is it war?
(Read article summary)
White House Press Secretary Robert Gibbs said the 'professional left' is ungrateful for all President Obama and the Congress have achieved. Alienating your base ahead of a tough midterm election might not be the best idea, though.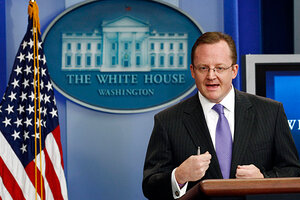 Kevin Lamarque/Reuters
Robert Gibbs, the White House press secretary, might be about ready for his summer vacation.
First, there was his statement of the obvious – about how Democrats could lose control of the House in November – that infuriated Speaker Nancy Pelosi. Now he's under fire for making a crack about the "professional left," and how ungrateful it is for all the things President Obama has accomplished.
The idea is that liberals feel Mr. Obama is too willing to compromise and won't stand up for progressive ideals.
The choicest comments, made in an interview with Sam Youngman of The Hill newspaper, go like this: "I hear these people saying he's like George Bush. Those people ought to be drug tested," Mr. Gibbs said. "I mean, it's crazy."
Per Mr. Youngman: "The press secretary dismissed the 'professional left' in terms very similar to those used by their opponents on the ideological right, saying, 'They will be satisfied when we have Canadian healthcare and we've eliminated the Pentagon. That's not reality.' "
More Youngman: "Of those who complain that Obama caved to centrists on issues such as health-care reform, Gibbs said: 'They wouldn't be satisfied if Dennis Kucinich was president.'"
---