Rahm Emanuel making nice? He must be running for something.
(Read article summary)
Rahm Emanuel, Obama's chief of staff, is set to speak at a big event on cooperation and civility in political discourse. Might he be looking to a mayoral run in Chicago (and would civility help him)?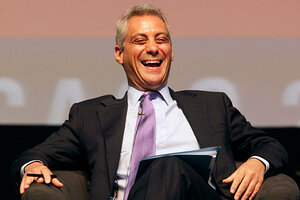 M. Spencer Green/AP/File
Wow, maybe Rahm Emanuel really is going to run for mayor of Chicago. Otherwise, why would he have agreed to appear on a high-profile panel at the National Cathedral and talk about ways of returning civility and cooperation to US political discourse?
After all, "civility and cooperation" is a not a phrase normally associated with President Obama's chief of staff. We mean no disrespect here, but it is a fairly well-established public fact that when it comes to political discourse Mr. Emanuel has in the past relied heavily on short words of Anglo-Saxon derivation and hand gestures that symbolize unpleasant acts.
Here's an Emanuel story we can repeat, courtesy of a New York Times profile in 1997: Following the 1992 election, in which Emanuel served as chief fundraiser for the victorious Bill Clinton, Emanuel and some colleagues retired to a Little Rock, Ark., restaurant to celebrate their victory. Talk turned toward people the Clinton campaign considered enemies.
Revenge was in the air. Suddenly, upon the mention of a particular name, Emanuel grabbed his steak knife and plunged it into the table. "Dead!" he screamed.
He and those around the table then chanted out their enemies list, each name followed by a loud "Dead!" and another stabbing of the unfortunate furniture.
---