Why Obama is taking time to campaign for Rep. Tom Perriello
(Read article summary)
Tom Perriello, a freshman Democrat from a Republican district in Virginia who is, no surprise, trailing in the polls, is also something rather unusual this campaign season: an Obama loyalist.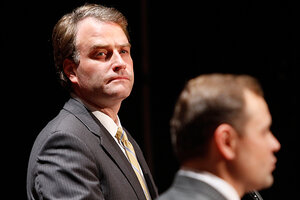 Steve Helber/AP
Why is President Obama spending crucial preelection hours campaigning for an endangered freshman House member – Rep. Tom Perriello (D) of Virginia?
After all, Representative Perriello's district leans Republican. He won by only a few hundred votes in the Obama sweep year of 2008. Right now, he's trailing his GOP challenger, state Sen. Robert Hurt, by anywhere from one to 12 percentage points, according to various polls. It's quite likely he'll lose.
As a general rule, presidents don't waste their time standing on podiums with one-term lawmakers who are on every prognosticator's "endangered" list, as he's slated to do Friday night.
But this is an unusual year, and Perriello's case is itself unusual.
For one thing, Perriello, a Yale-trained attorney and former lawyer for international human rights efforts, is eager for an Obama visit. In a year where some Democrats are boasting that they voted for John McCain in 2008, and others are literally shooting administration bills in their campaign ads, the president perhaps just wants to reward loyalty.
---