Lesson from Christine O'Donnell defeat: where tea party overreached
(Read article summary)
Christine O'Donnell's Senate loss to Democrat Chris Coons in Delaware shows that sheer numbers can trump tea party buzz and underscores the importance of thoroughly vetting candidates.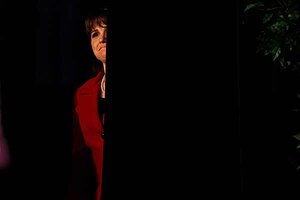 Jason Reed/Reuters
Christine O'Donnell lost on Tuesday. Does the defeat of a Delaware Republican Senate candidate – albeit one whose past actions and present positions earned her a lot of media attention – say anything about the state of US politics?
Well, one thing it says is to not bet against the political forecasting skills of Karl Rove. After Ms. O'Donnell beat establishment candidate Rep. Mike Castle (R) in the primary, Mr. Rove openly insisted that she was unelectable. Some Republicans complained that President Bush's former political guru was breaking an unwritten rule – never (publicly) say anything bad about another Republican.
But Rove was right.
"It gave me no pleasure to say that she was unlikely to win," said Rove following her loss to Democrat Chris Coons. "But this again provides a lesson. This is a candidate who was right on the issues but who had mishandled a series of questions brought up by the press."
Another thing that O'Donnell's experience might reveal is that it's indeed important to vet a candidate's press history. And by history, we mean a long way back.
O'Donnell was dogged to the end of the campaign by old video of her appearances on Bill Maher's "Politically Incorrect" and other talk shows. All we have to say here is one word: "witchcraft."
---